These are the days of soup. I love comforting soup in the midst of winter months. The Vancouver Island, West Coast winters are very wet and chilly. And I agree, I don't have to shovel the rain, but man, it gets so damp here. I never quite feel like I can wear enough layers.  So it's always nice having that steaming bowl of soup in the evenings to strip the chill from my bones.
I found a base recipe for this over in Magnolia Table, by Joanna Gaines, but found how I normally make soup out-won the book's process. So there are some changes, but the flavour is completely thanks to that amazing cookbook! So yummy!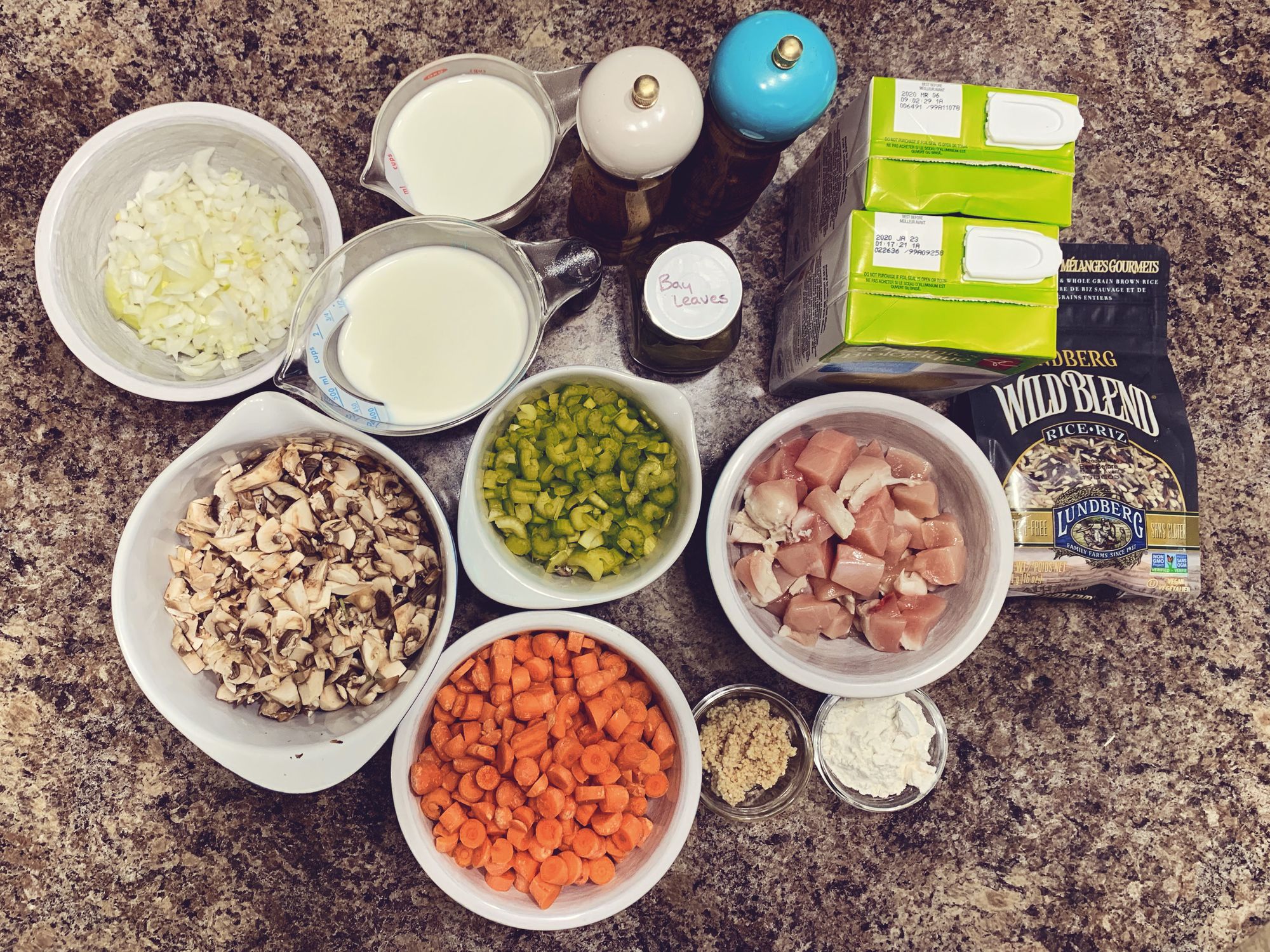 Ingredients:
4 Tbsp. Salted Butter
2 Cups Carrots, Chopped
1 Cup Celery, Chopped
2 1/2 Cups Mushrooms, Chopped
1/2 Cup Onion, Minced
1 Bay Leaf
2 Tsp. Garlic, Minced (Roughly 2 cloves)
2-3 Chicken Breasts, cut into 1 inch pieces (You could really use any boneless chicken pieces for this soup. Thighs would be great too!)
3/4 Cup Flour
454g/16oz Wild Rice Mix ( I have used the Lundberg brand and loved it!)
12 Cups Chicken Broth (3 - 32oz. cartons)
1/2 Cup 10% Cream
1 1/2 Cup Milk
3/4 Tsp.Salt
Fresh Ground Pepper to Taste
1 Tbsp. Dried Parsley
Step 1 - Heat a large dutch oven or soup pot over medium high heat. Add your butter and let it melt.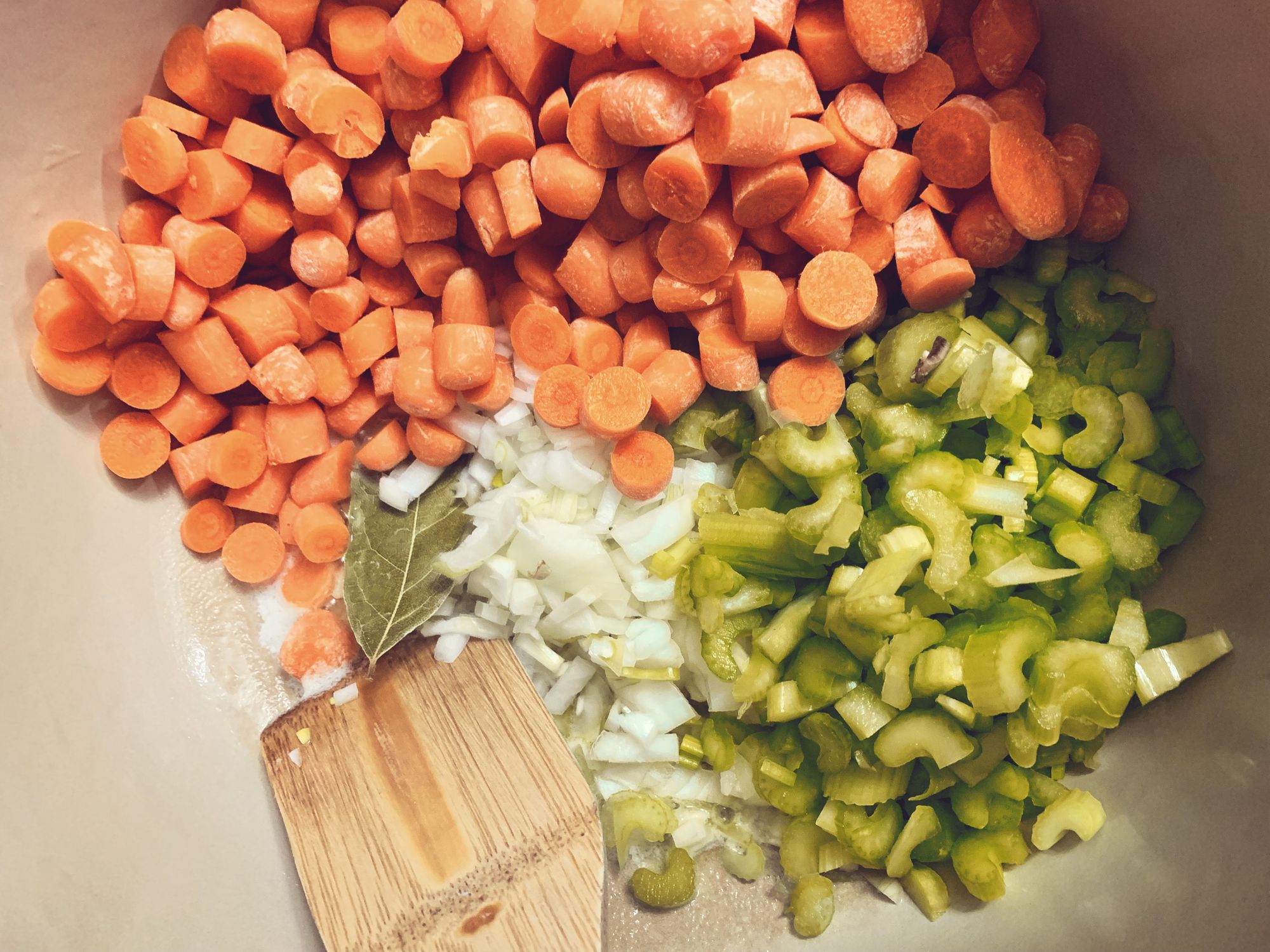 Step 2 - Toss your onion, carrots, celery and bay leaf in over the butter and stir occasionally until they begin to soften.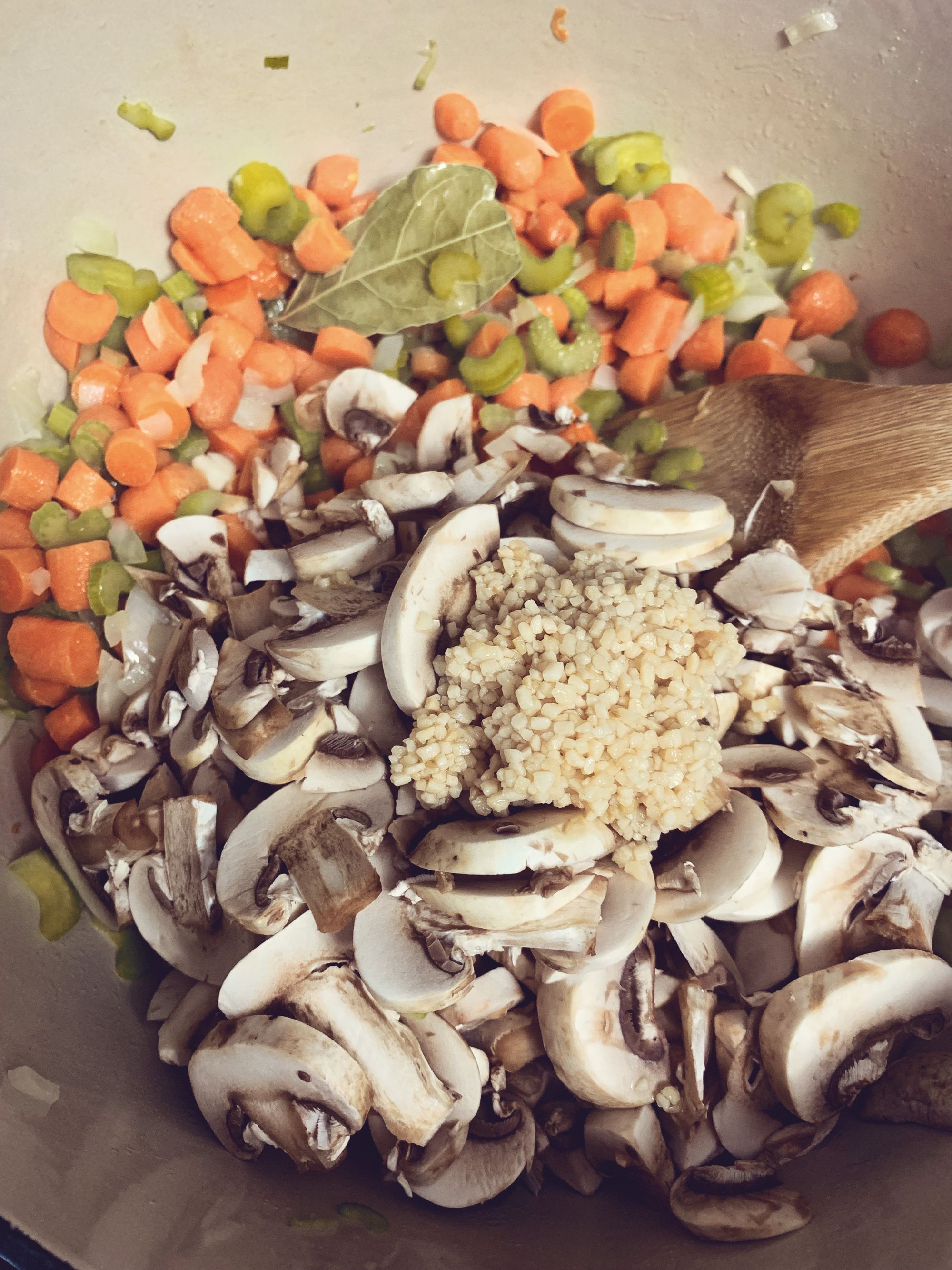 Step 3 -  Next add your mushroom and garlic. Again, stir to combine and let cook for another few minutes.
Step 4 - Now add your raw chicken, or if you prefer, you can use pre-cooked. Cook, stirring occasionally until the chicken is no longer pink.
Step 4 - Pour in you chicken stock, cream and milk. Stir well. Allow the pot to come to a mild simmer. Remove part of your liquid to a small mixing bowl. To the small bowl, add your flour, whisking constantly. If it is "gloppy", add a bit more liquid, whisking until it has a very loose paste consistency. Add this back to the pot and stir well to combine.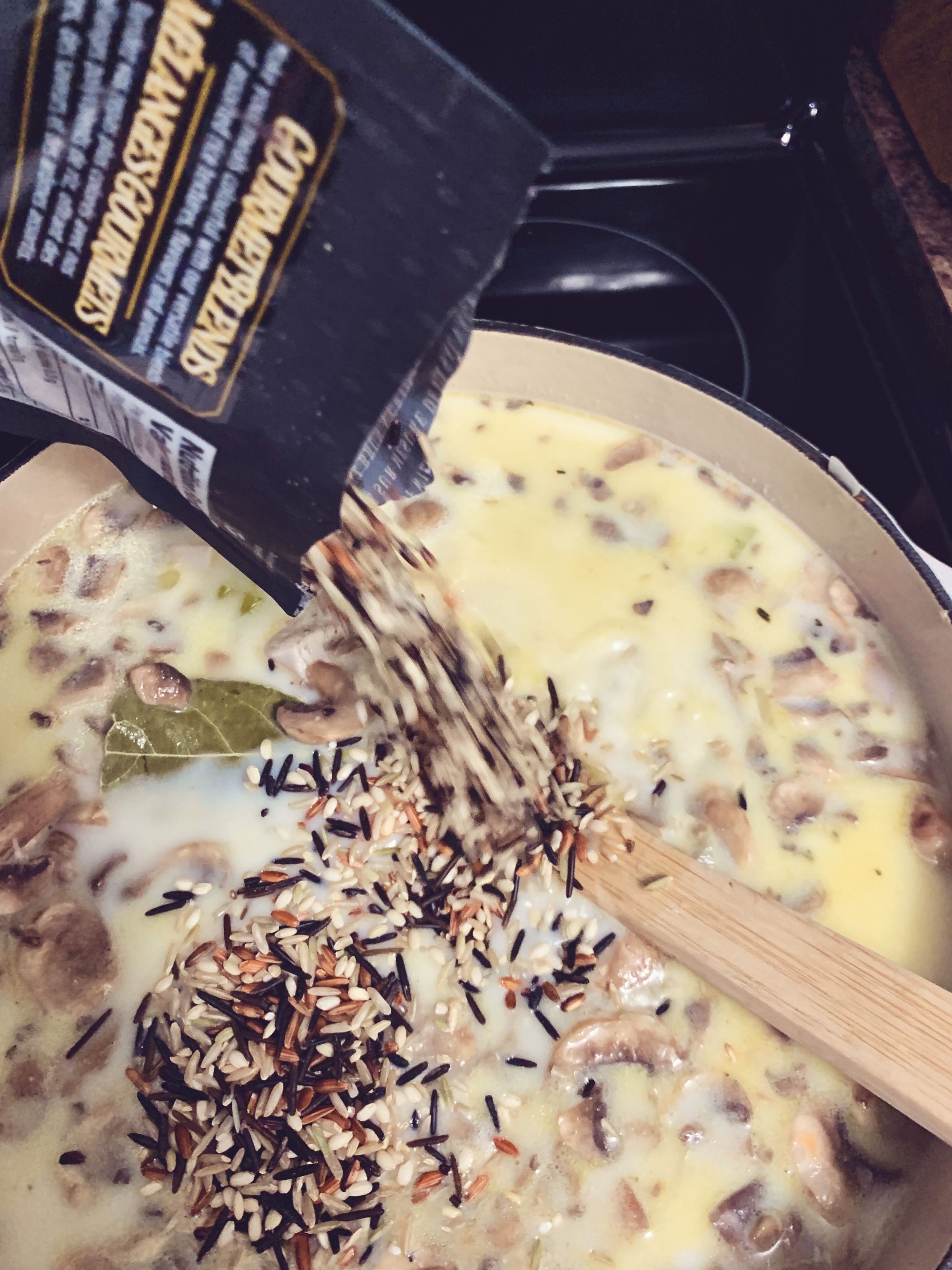 Step 5 - Pour in your wild rice mix. Stir to combine and put your oven temperature at  medium heat and stir occasionally as it comes back to a simmer.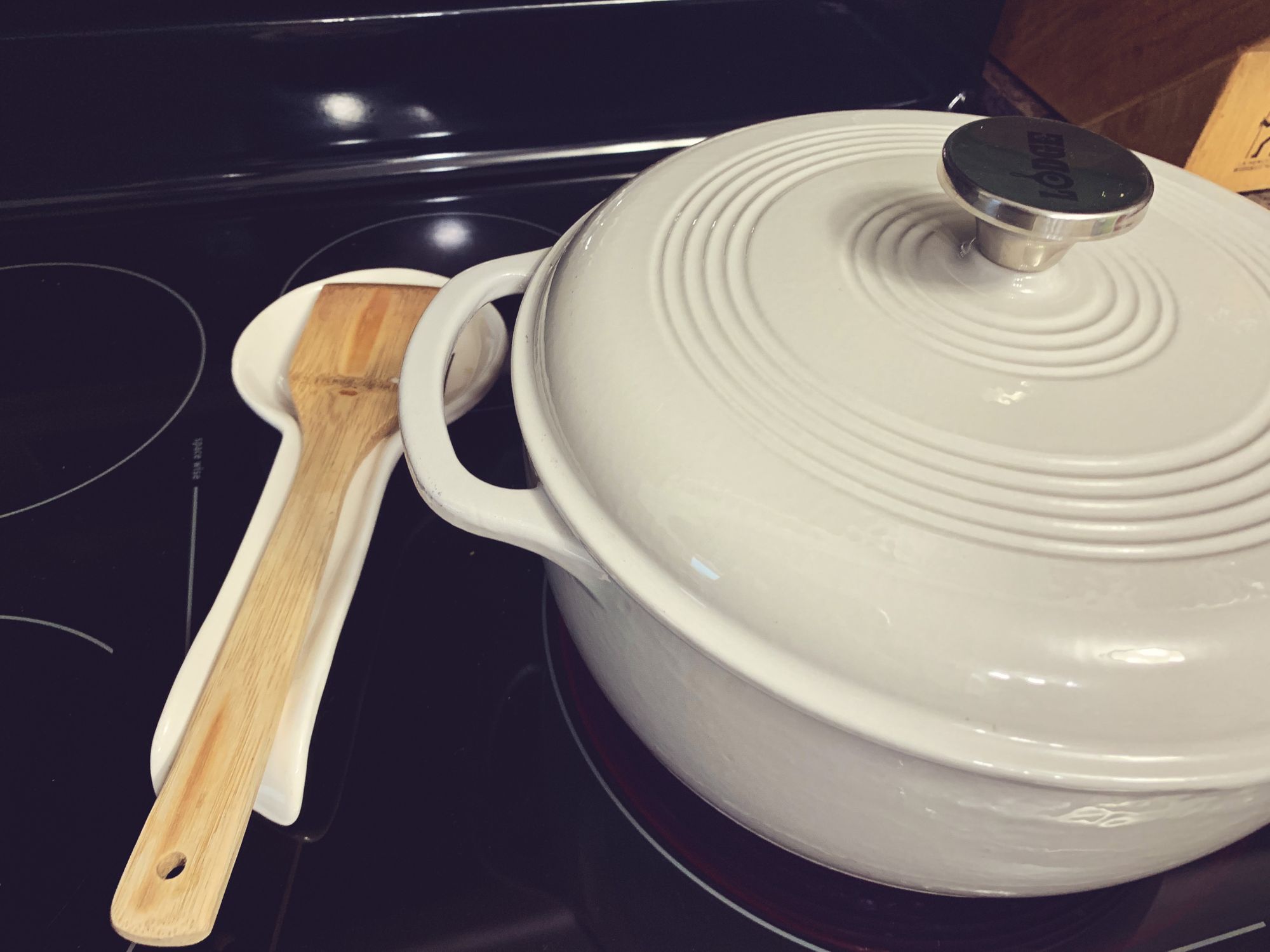 Step 6 - After reaching a full simmer, stir well and lid your soup, turning the heat down to a medium low. Check on it every now and again and stir to keep the soup from sticking to the bottom of your pot. Check your rice after 30 minutes and if it is tender and cooked through, dinner is serves.
The cooking time for the rice will depend on the directions for that rice. You could pre cook the rice to make the dinner com together faster, but I prefer it all just go in the pot and cook together.